An employee of the month certificate includes details like date, company name, logo, employee name, and logo, etc.
Certification demonstrates to clients that your staff members possess the abilities and expertise needed for their positions. Customers will be able to tell that you hold your personnel to a high standard of knowledge and will feel safe.
Company logo:
A logo represents the company. Instead, your brand is made out of the experience, perception, and reputation of your offerings. Building a brand is a process known as branding or strategy. Brand identification represents the physical aspect of your brand.
In the certificate, symbols have to be on the top corners of the certificate or else on the top center.
Having said that, your company's success depends on the logo, which communicates ownership, quality, and ideals. Furthermore, it makes a stronger impression on your customers' minds than your products, website, business cards, or social media platforms do.
You have the chance to establish a good first impression with your logo, which is likely one of the first things customers will see when they interact with your business, demonstrate that you provide high-quality service, and more.
Company name:
Companies name included on the certificate must represent your business, otherwise, it will just state that the employee is currently employed by the company, as evidenced by the employee of the month certificate.
The company's name has to be at the top of the employee of the month certificate.
The Employee's Name:
The employee's name indicates that they did a fantastic job this month, going above and beyond what was required, to raise the company's standing in the marketplace.
Typically, you have a choice as to how your name appears on a certificate. It is however common to spell out at least your initial name and family name completely. Just the initial letter can be used to replace any additional names.
Mostly it has to be in the center.
Date:
The date is a mandatory element to include in the certificate because it allows one to understand whether you received your certificate for employee of the month on a particular date or month, or whether the ceremony for the award took place on this day.
Signature of the Head:
The head must add their signature to the certificate in a similar manner as the date.
A signature serves multiple functions, including confirming a document's contents and serving as a means of signatory identification. Additionally, it serves as proof that the contents of the document being signed are authentic, genuine, and valid.
Wishes:
It's crucial to realize that congratulations aren't is not offered to highlight someone's accomplishments, which brings us to the second aspect of the term. Additionally, it's a method to acknowledge and celebrate someone else's success and happiness.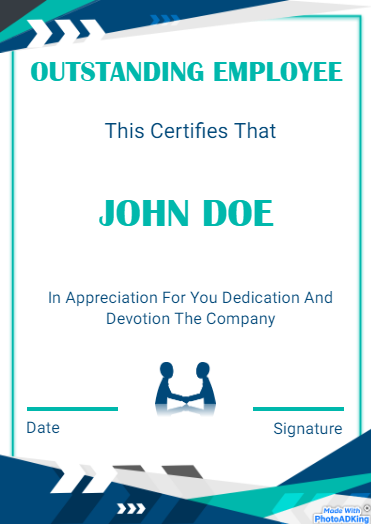 Amazing layouts:
Any project that expresses a message through striking visuals, such as templates, flyers, magazine layouts, website designs, and commercials, needs a layout design. Creating visual points of interest that lead the reader through a piece of material without obscuring its message, good layout design is both dynamic and clear.
Attractive graphics:
Because visual aids are more successful at communicating ideas, graphic design aids in effective audience communication. Creative designs, educational visuals, or photos can communicate ideas and information more effectively than text can. If you want to create a professional brand image then go forward with aid of graphic design.
Also, look at graphic design.
Picture of an employee:
You may add picture of an employee as well in the employee of the month certificate which will clear the identification of an employee that this certificate belongs to them and it would be easy to avoid misuse of the certificate.
Examples of an employee of the month certificate:
Stylish Employee of the Month Certificate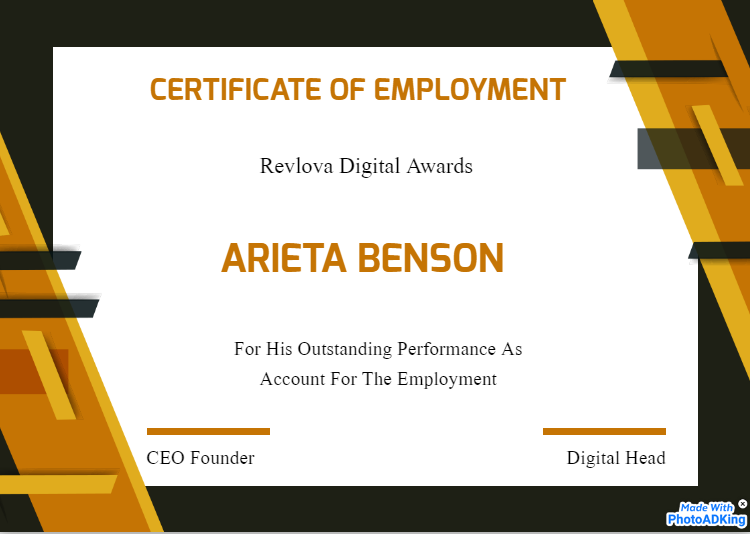 An employee of the Month Certificate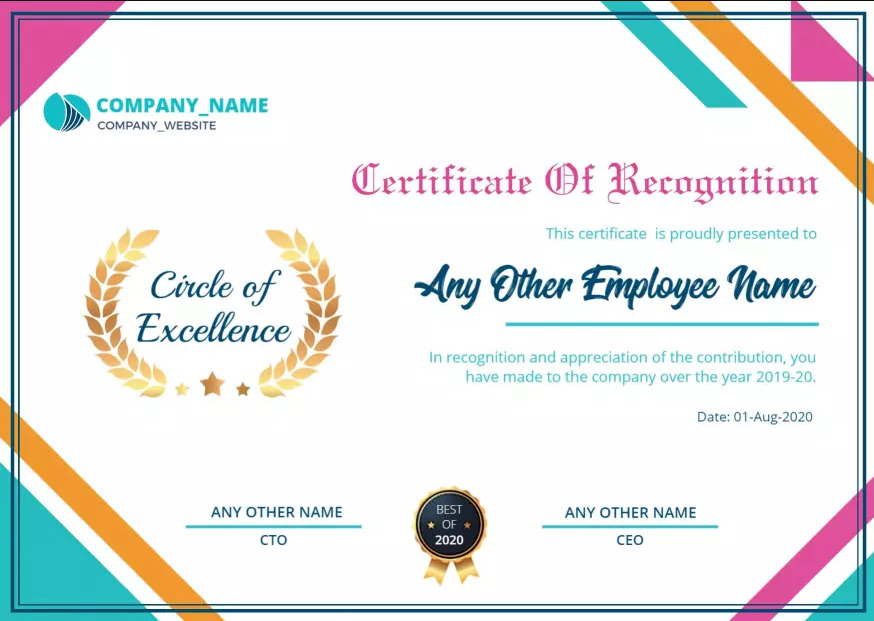 Photo including Employee of the Month certificate